Jan 26 2013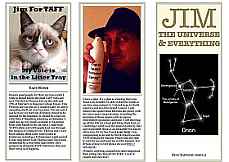 The second issue of Jim, the Universe and Everything or the Tiny TAFFzine as it has become known is now available on this site and on efanzines.com.
In this issue I talk a little about why I decided to run for TAFF and why I would like to get the chance to represent European fandom in North America as TAFF delegate. I also discuss my plans to steal the Grand Canyon and let you know which cons I shall be attending during the campaigning period. Fun, frivolity, absurdity and pictures all squeezed into a Tiny TAFFzine. Share and Enjoy.
 We have 2 different sizes available on jimfortaff.com for U.S. letter size paper and the A4 size.
On efanzines.com you can access it via http://efanzines.com/TinyTAFF/index.htm
Please feel free to print out and distribute to anyone you feel may be interested.